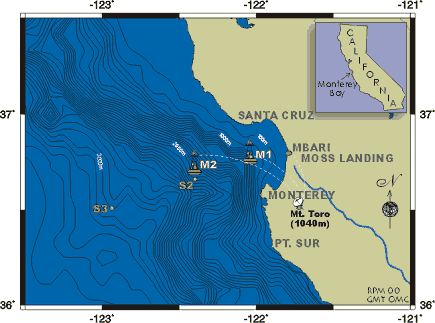 Source: MBARI
HOBI Labs instruments have been used continuously on moorings in Monterey Bay, California since 1998.
The moorings are deployed year-round by the Monterey Bay Aquarium Research Institute (
MBARI
) as part of their Ocean Acquisition System for Interdisciplinary Science (
OASIS
). Data are retrieved hourly by radio. Click on the links in the table above to view data for the previous day, the last seven days, or the entire deployment since the last buoy turn-around.
Mooring M1 is located at the center of the mouth of Monterey Bay, and hosts a HydroScat-2 that measures scattering at two wavelengths and chlorophyll fluorescence just below the surface
M2 is located outside of Monterey Bay in the California Current and carries a HydroScat-2, HydroRad-3, and HydroRad-2. The HydroRad-3 measures hyperspectral downwelling irradiance, and upwelling radiance at two locations above the surface. The HydroRad-2 is at 10 m depth with one downwelling irradiance collector and one upwelling radiance collector. The HydroScat-2 is identical to the one on M1.