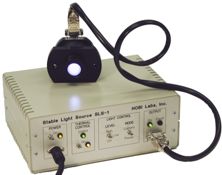 SLS-1 controller and
optical head
User's Manual
The initial version of the SLS User's Manual.
Configuration File
This configuration file is required in order to use the SLS with RadSoft for HydroRad stability testing.
Baseline Voltage Readings
The following tables show the current drive and light output readings measured from SL050101 before shipment in May, 2005. These values can be monitored to determine the consistency of the SLS output.
| Driver Volts | 1 | 2 | 3 | 4 |
| --- | --- | --- | --- | --- |
| Current Mode | 0.467 | 0.802 | 0.799 | 1.005 |
| Power Mode | 0.234 | 1.251 | 0.562 | 2.001 |
| Reference Volts | 1 | 2 | 3 | 4 |
| --- | --- | --- | --- | --- |
| Current Mode | 0.403 | 0.733 | 0.735 | 0.815 |
| Power Mode | 0.200 | 1.157 | 0.509 | 1.606 |